Create bulk waste for harvested materials directly in Canix to save time and move through your processes more efficiently! You can follow this same process while only selecting one Harvest, or select multiple Harvests to submit waste for simultaneously.
Create Harvest Waste
On the Web Application
This process can be followed to create Harvest Waste for 1 Harvest, or to create Bulk Harvest Waste for multiple Harvests at once.
🚨 To successfully submit Harvest Waste on the same day the Harvest was submitted, please Refresh Metrc Data for the Harvests section first to sync the Metrc Harvest ID assigned during creation.
Navigate to Harvest > Overview > Active

Check the boxes to make your selection(s) - use the filters to narrow down your search

To select multiple sequential Harvests at once, m

ake your first selection, then hold down the

shift

key when you select the last Harvest in the grouping

In the top right corner, select Actions > Create Harvest Waste

Fill out the Waste Type, Weight, Weight Unit, and Date (defaults to the current date)

Select Submit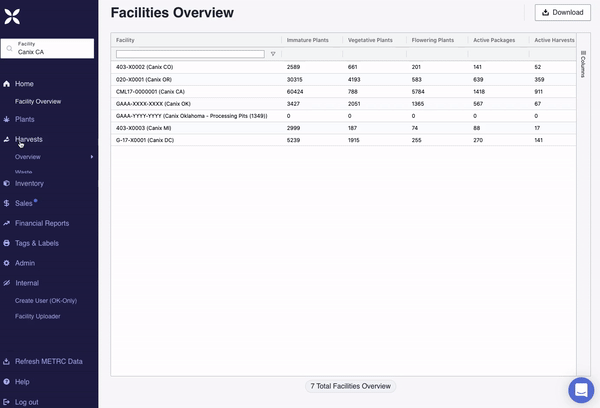 To view Harvest Waste on the Web Application, navigate to Harvests > Waste.
On the Mobile Application
Navigate to Harvests > Create Harvest Waste
You will be prompted to Create Harvest Weight by first selecting a Harvest. This can be done by searching or finding it from the list of Active Harvests, as shown below.
After you have selected the Harvest to record Waste for, complete all required fields: Waste Type, Waste Weight, Unit of Measure, and Waste Date.

Note: Harvest Waste applies to the entire Harvest. You can submit additional Harvest Waste at another time if necessary before Finishing the Harvest.

For non-Metrc customers, select Create Waste in Canix

at the bottom of the screen. Done!

For Metrc customers, select Create Waste in Metrc at the bottom of the screen.

A confirmation window will appear, asking "Submit Harvest Waste to Metrc?" If everything is correct,

select

Submit Harvest Waste.

Note: You cannot undo this in Canix once submitted and must contact Metrc to correct errors.

Canix will submit the Harvest Waste to Metrc and you will have the option to select Done once this is completed.