If you have multiple licenses, you'll likely need to Transfer Plants or product between them. Canix has a helpful built-in feature that allows you to quickly create Transfers from selected Packages.
In this article, we'll cover how to Transfer Packages internally between your licenses. The first 2 steps will be the same for all customers, but the rest of the process will be slightly different depending on the type of account you have.
All Customers
Metrc Customers - Next Steps
Non-Metrc Customers - Next Steps
All Customers
Anything you transfer must be in the form of a Package. If you're planning to transfer Plants or Clones, first you'll need to package them using the process below.
Package Plants
Create Transfer from Packages
Once packaged, you'll be able to transfer Packages of Plants or product to another license:
Navigate to Inventory > Packages > Active
Select the check box next to the packages you wish to transfer

Click

Actions

(upper right) >

Create Transfer
Fill out the transfer completely with all details and click Create
Metrc Customers - Next Steps
Register the Outgoing Transfer in Metrc
To move any inventory out of the first license, you'll need to register the Outgoing Transfer in Metrc.
Accept the Incoming Transfer in Metrc
To accept any inventory into the second license, you'll need to accept the Incoming Transfer in Metrc.
Refresh Metrc Data in Canix
Data is pulled from Metrc into Canix daily overnight, but to have your transferred inventory show up immediately you'll need to Refresh Metrc data in Canix to update.
Click Refresh Metrc Data in the bottom left corner of Canix
Select the sections you'd like to refresh
Click Sync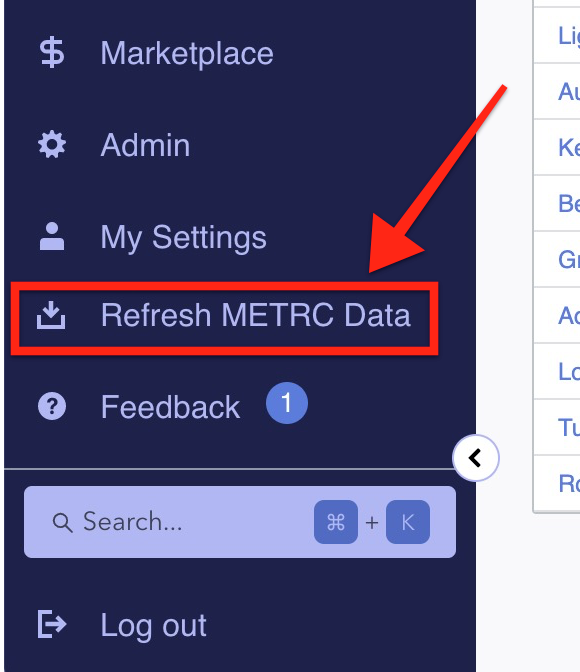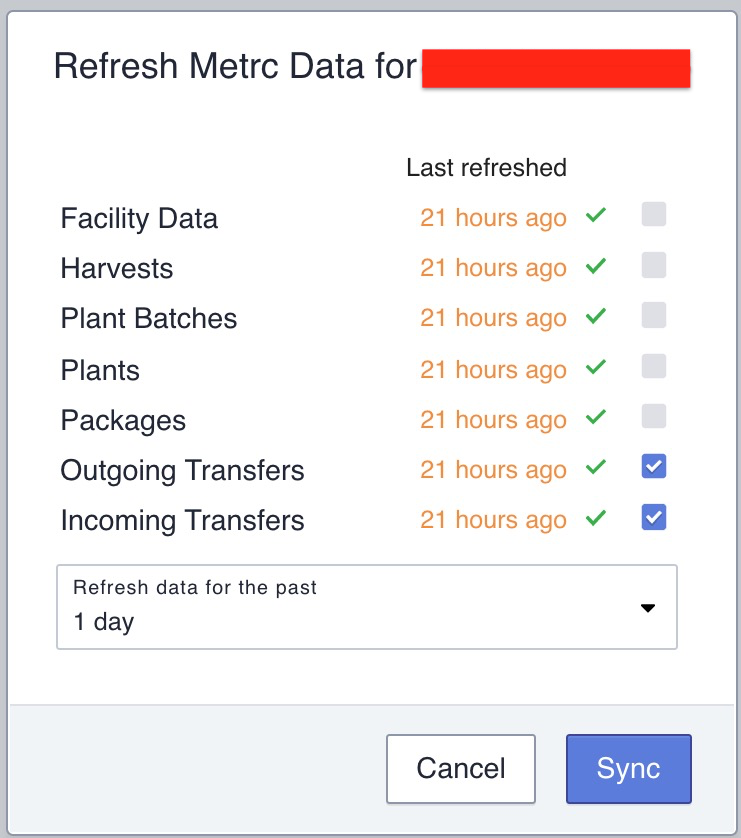 Create Plantings from a Package
Once the Transfer has been accepted in Metrc and the Metrc data is refreshed in Canix, the Package(s) will show up in your second license. From there, you can optionally Unpack Plantings from Packages to create new Plant Batches.
Non-Metrc Customers - Next Steps
Create an Incoming Transfer
Once you have created a Transfer from the source facility, you'll then create an Incoming Transfer in the receiving facility.
In Canix, navigate to your connected receiving facility
Go to Inventory > Incoming Transfers
Select + Accept Incoming Transfer
Complete the following fields: Incoming Transfer Name, Source Facility, and Received Date and Time
Select

Create Incoming Transfer
Now that you have created the Incoming Transfer, add Packages to the Transfer by selecting

Add Package to Incoming Transfer
Now

Create the Package

associated with the Incoming Transfer. Enter the required fields:

Package Tag, Item, Weight and Weight Unit then select

Create Package
Once the Package has been created, you can confirm the Incoming Transfer's contents and

Submit
Next, you can print new tags to label the Packages with their new tag numbers