Canix is a third-party integrator with Metrc. In order to connect with Metrc via their Application Programming Interface (API), we must undergo a rigorous certification process to ensure that our system can seamlessly transmit data from one system (Canix) to another (Metrc).
How It Works
The flow of data from Canix to Metrc occurs in two ways:
Metrc to Canix
Metrc syncs data to Canix on a nightly basis. This allows Canix to pull in any new data that may have been added directly to Metrc, and reconciles your records between both systems. You can also pull in new data on demand by using the Refresh Metrc Data button within your Canix account.
Canix to Metrc
New data submitted in Canix is pushed to Metrc in real-time except in two instances:
You are working in "Offline Mode" on the mobile application. To push data to Canix and therefore Metrc you'll need to follow the steps to submit that data to your account.
A user has "Requires Reviews on Submissions" applied to their account, in which case an administrator has to approve their submissions to Metrc.
If your data is not reflecting correctly in Canix after making changes, be sure to "Refresh Metrc Data". This can be done in both the web and mobile applications, more information below.
Important Notes Regarding the Sync
Canix will batch large submissions into no more than 500 items

This ensures that the data goes through successfully.

If we're experiencing a backlog (i.e. Metrc submissions are processing slower than normal), our system is built to re-try until they go through successfully

We've seen that in most instances for large submissions (1,000+ plants) usually takes about 30 minutes to an hour for all data to be submitted
There's no need to try again if you see that it hasn't gone through, our system will re-try for you

When harvesting large batches, feel free to use the filters to make your selections easier (Harvest Filtered Plants)

Be sure to double-check that your count matches what you would expect, sometimes flowering dates, etc. will need to be filtered as well
Refresh Metrc Data
On the Web Application
Navigate to the bottom left corner of your menu
Click Refresh Metrc Data
Select the boxes next to each section to choose which data you'd like to refresh
Select how far back you would like to refresh, up to 7 days
Once you've made your selections, select Sync to sync your Metrc Data
To check if your sync is complete, click on Refresh Metrc Data again - the Last Refreshed date will update for each section once complete.
On the Mobile Application
Login and navigate to the home screen
At the very top of the screen, click on your facility name
On the next screen, click the Refresh button at the very top of the screen to sync Metrc data
Once the sync is finished, the synced date/time will update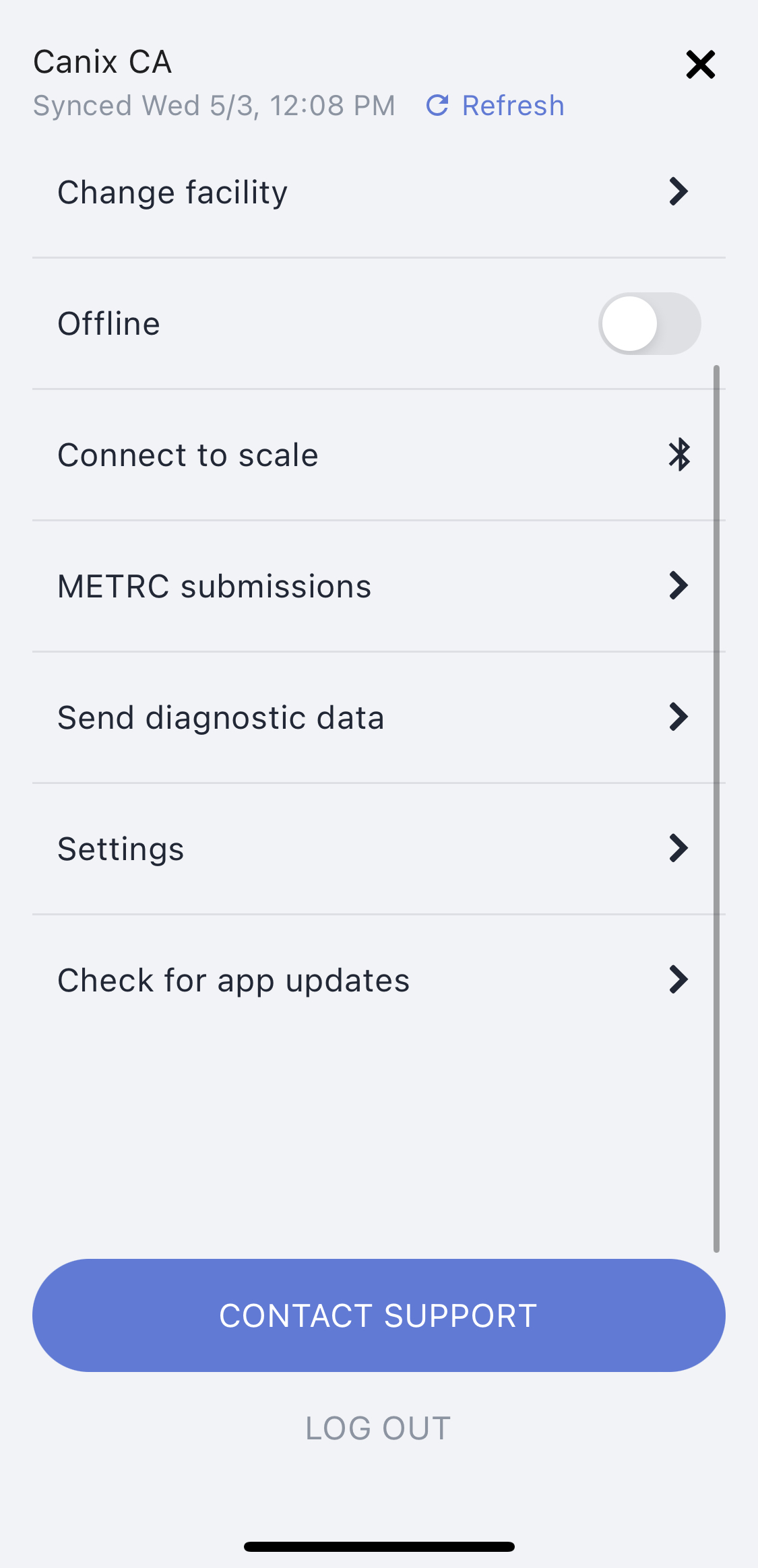 If you believe your data may still not be matching what you expect to see, please try deleting the Canix mobile app entirely from your device, redownloading it from the app store, and allowing all data to upload fully after signing back in.