Since Canix sends data to Metrc in real-time, Canix's Review Metrc Submissions feature allows administrators to review and approve all submissions from Canix Users to ensure they are accurate before they are sent to Metrc. This also allows you to better manage your team and business by giving you access to who is submitting what and when.
For Metrc customers, this feature is a great tool to ensure fewer mistakes are made in submissions.
Note: Anything that may be compliance-related will be set for review (i.e. creating items, submitting waste, creating harvests).
Update User Management Permissions

User Permissions allow control over which users can approve specific actions, and which users require approval for specific actions. This will replace the Admin option, as well as the Requires Review upon Submission option in User Management effective August 25, 2022. To ensure you have the correct permissions, review Web & Mobile Permission Groups. Once you have the correct permission groups setup, you can assign them to individual users within Canix.
Navigate to Admin > User Management
Create or select a User
Review the section Web & Mobile Permissions Group
Ensure the user has the correct Permissions Group Assigned and Select

Update
Now that the correct User Permission groups have been assigned to user within your facility, you can view All Pending Metrc Submissions and all completed Metrc Submissions.
Please note:
Using this feature requires that Canix User who has
Can Approve
enabled is available to approve submissions whenever a user submitting updates for review is working on consecutive actions.
For example, if a user submits a Plant Batch Creation for approval and then wishes to Update Growth Phase for Plants in the batch immediately after, a Canix User who has Can Approve enabled would first need to approve the initial Plant Batch Creation submission to have it submitted to Metrc and created before the user could proceed with editing it.
Review Submissions that are Pending Approval
Browse Pending Metrc Submissions within your selected facility and approve as needed

Note: Only Users that have Can Approve selected can Approve or Deny Metrc Submissions

Check the box

next to the submission
Select

Approve

to submit to Metrc or Deny to send back to the user for edit
If you have both Can Approve and Requires Approval on Submissions enabled, you have the ability to review and approve your own submissions. This is good practice for new Metrc users.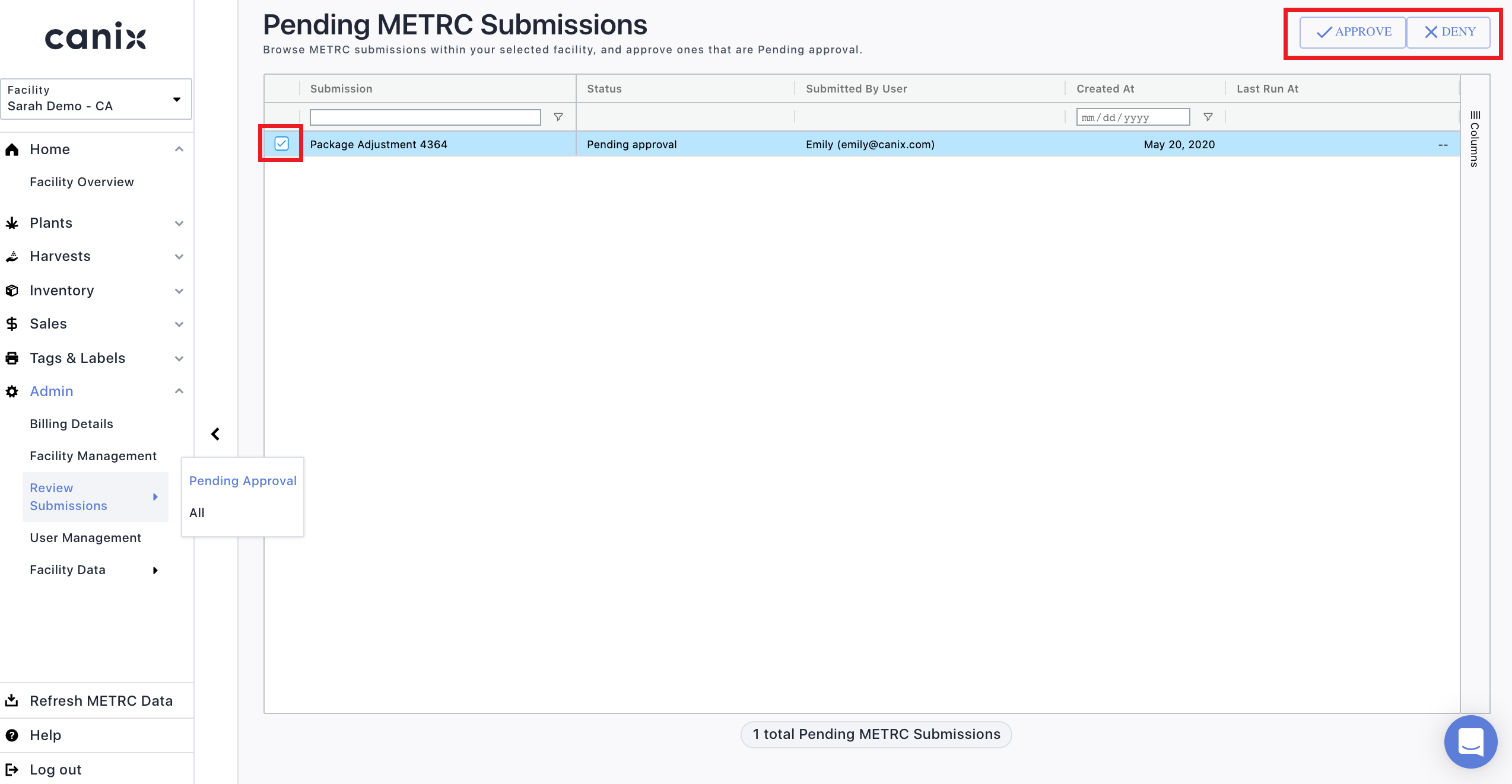 Review All Metrc Submissions
You have the ability to review and edit harvest submissions without having to re-do your work. This can be done by viewing Unsubmitted Harvests.