Sending your Purchase Orders (POs) to QuickBooks Online (QBO) makes it easy to keep your accounting records up to date. In this article we will cover Submitting Purchase Orders to QuickBooks Online & Creating a New Vendor in QBO.
Before continuing, ensure your QuickBooks Online account is connected by following these steps.
Submitting a Purchase Order to QuickBooks Online
From the Web Application:
Navigate to Sales > Purchase Orders
Create a new Purchase Order or select an existing one
Navigate to the bottom of the Purchase Order and select Purchase Order Actions and then from the drop down menu select Send to Quickbooks Online


If you are connected to more than one QuickBooks account, you will be prompted to choose the QBO Company you would like to connect and create the invoice in. Select the appropriate QBO Company from the drop down menu and then select Continue
Selecting a company is required in order to populate the QBO Vendors and line items to choose from. If you skipped selecting a company, retry creating a QBO invoice to select a company before moving on.

Navigate to the

Quickbooks Vendor

box in the top left to search and select an existing QuickBooks Vendor.

Note: Vendors from your Quickbooks Online account will populate in a drop down menu for you to select one. Not seeing a Vendor? Navigate to QuickBooks Online to create a new Vendor.

Assign QuickBooks Items to each Item on your Purchase Order using the

Select QBO Item*

link seen below the Canix item. Search and select existing QBO Items or create a new OBO Item.

Ensure that all fields on the order have been filled out correctly and then select 'Send to Quickbooks Online'.

Note: If you need to update your Purchase Order simply navigate back to the Purchase Order and make the necessary updates. When you're ready to submit the updates to QuickBooks Online navigate to Actions at the bottom of the Purchase Order and select 'Update QuickBooks Order'. You'll have access to update the QBO Items as well as any taxes, discounts or delivery fees.

To view Purchase Orders that have been submitted from Canix to QBO in QuickBooks Online from the left navigation bar select Expenses and it will bring you to a table with all of the Expense Transactions for your company.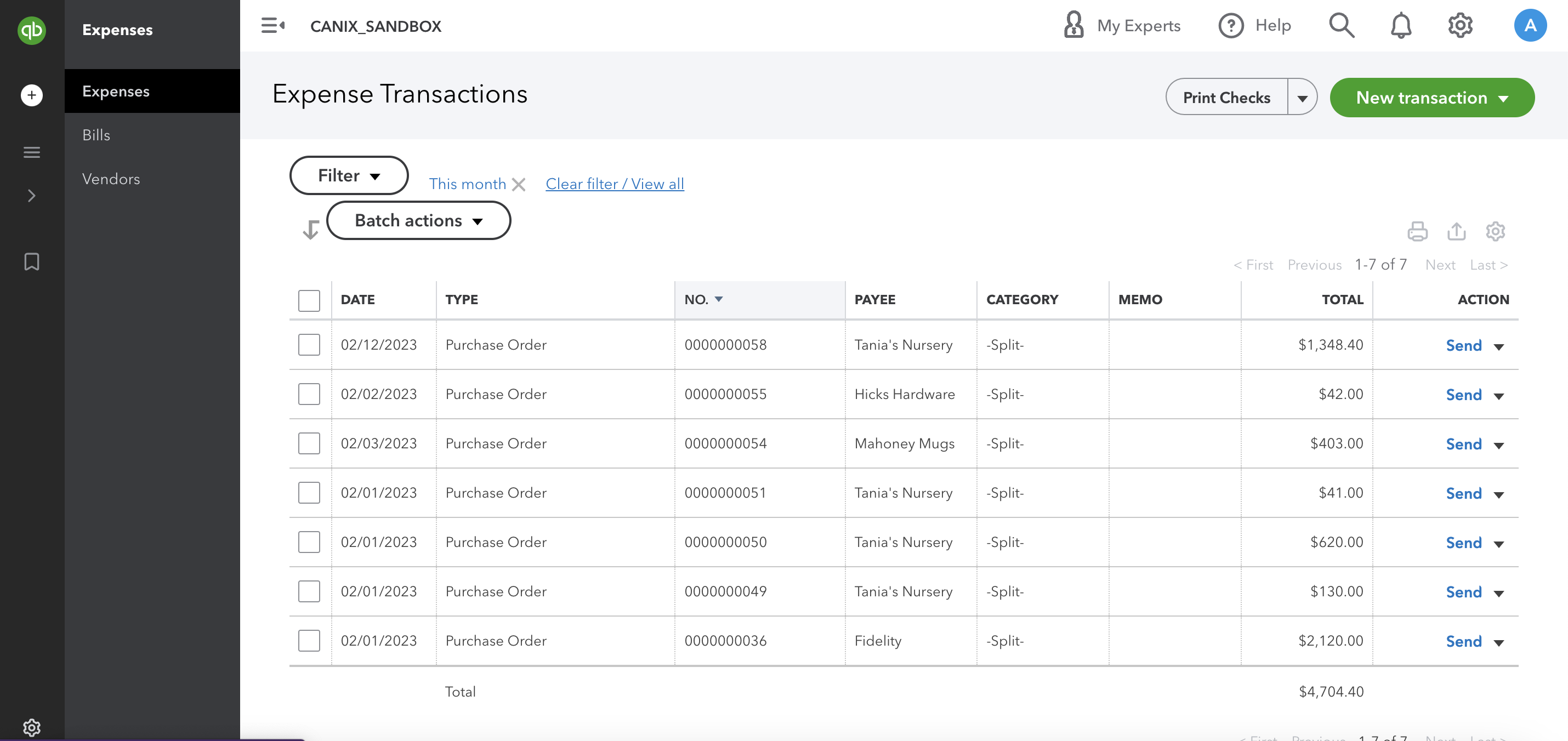 Create A New QBO Vendor
To create a new vendor in QuickBooks Online:
From the left navigation bar in Quickbooks Online, navigate to Expenses > Vendors.

Select

New Vendor in the top right side of your screen.

Fill out the form with the information for your new vendor.

Select Save.
You will now be able to select this new Vendor when Creating QuickBooks Purchase Orders in Canix.