We know how important the voice of the customer is in making Canix the best ERP on the market, which is why we released a Product Feedback tool right in the product. You can now submit your ideas directly to our Product Team from within the Canix web application!
What is it?
Canix's Product Feedback tool is powered by Parlor, an innovative new platform that allows us to track and manage all our customer's feedback in one place. We wanted to give you a space to share your ideas, while also being able to track them in real-time so you can see what we're working on! This tool also gives us the ability to push notifications about new features right to your Canix instance so there's no need to check your inbox to see what's new.
Once you submit your feedback it goes straight to our Product Team to review. After your feedback has been reviewed you can check on the status of your requests from the Product Feedback tool widget.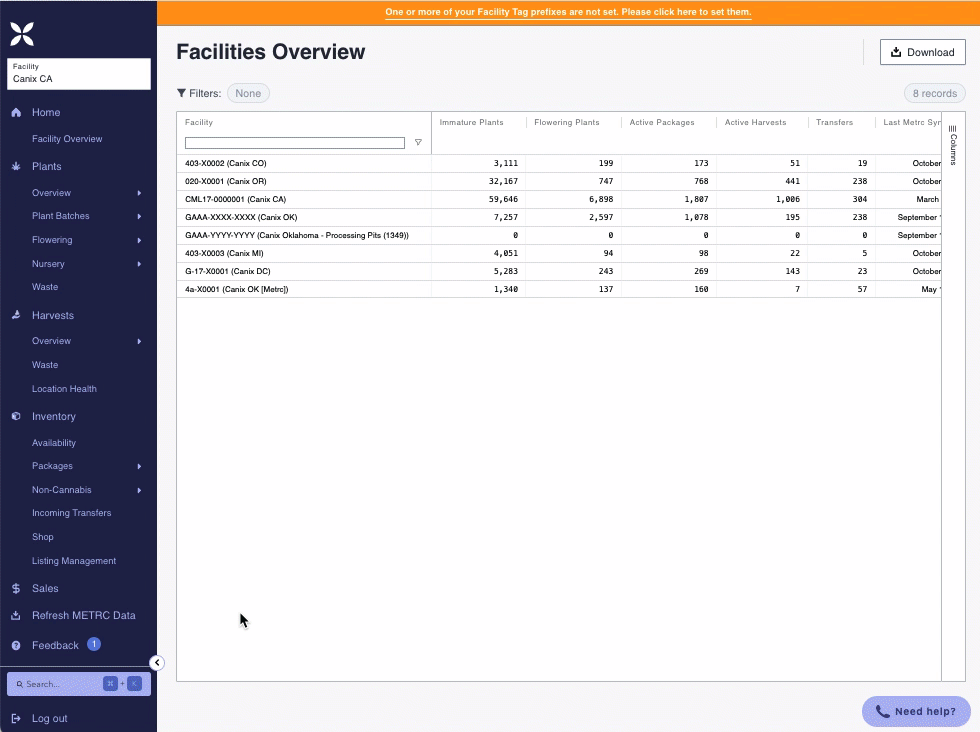 How to use it?
Submitting Feedback
Submitting feedback is simple!
Log into the Canix web application
Click Feedback, lower-left corner
Select Send us feedback!
Click Request a Feature
Your Request - Submit a brief summary in the first text box
Feedback Description - Add additional detail about your idea in the second text box
Once complete, click Submit Request
After submitting your feedback you will have a few additional options to Request a Team Response, edit your response, or exit the widget. If you select Request a Team Response our Product Team will be notified and they will do their best to follow up with you as soon as possible.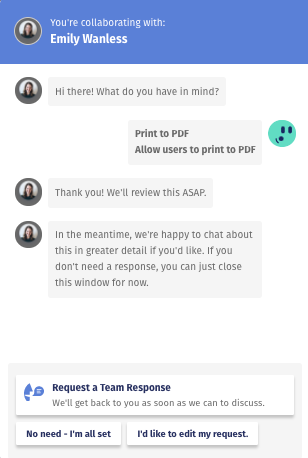 Reviewing Submitted Feedback
All of your feedback will be stored on the Product Feedback widget for you to reference at any time.
Log into the Canix web application
Click Feedback, lower-left corner
Select My Requests, upper-left of the Product Feedback widget

If your feedback has been reviewed the status of your feedback will change from Pending Review to Not Considering or Considering. The Product Team also has the ability to interact with you with the Product Feedback widget and will provide a written update regarding the status change.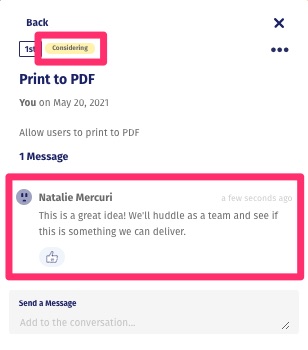 You can interact with the Product Team by responding to their message.
These messages are not shared in real-time and will not be responded to right away.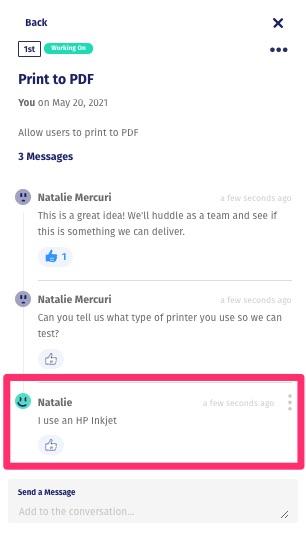 Additional statues include:
Planned - meaning our Product Team has decided to move forward with developing this feature.
Working On - our Product Team is currently hard at work bringing this request to life.
Released - this feature request has been developed and is live in the product.
Product Announcements
Another great feature within the Product Feedback tool is Product Announcements. Canix releases new features and product improvements on a weekly basis! In order to learn about the latest new features, you can use the Product Feedback tool to stay up-to-date.
The latest Product Announcement will always be featured first, right when you open the widget. To see past Product Announcements click See What's New.