Canix now offers an integration with LeafLink which allows you to connect your marketplace with your inventory systems. This will allow for a more seamless process of creating, managing, and fulfilling sales orders.
Before you begin, you'll need to connect your LeafLink account - see this article for instructions on that process.
In this article you'll learn how to create a sales order in Canix on the web, using the associated sales order data collected from LeafLink.
Creating Canix Sales Order from LeafLink Order
Once you have established the connection between LeafLink and Canix, all LeafLink sales orders will be automatically pushed into Canix and made available on the LeafLink Orders page.*
To create an order, follow these steps:
Navigate to Sales > LeafLink Orders

Find the LeafLink order you'd like to fill, click Create

This will open a new tab in which all the order details from LeafLink will be pre-populated in your Sales Order

First, click the red Select Canix Item -- from the drop down select the item associated with that sale

Canix will remember your item selection and pre-populate it for any future items of the same order.

If you need to change this selection in the future, or if you made a mistake, click on the item name again and search for another item.

Next, add the customer data and fill out the other boxes on the form

Once the form is complete, click Create
After you click Create, you will be taken to a sales order page that has all the linked information. From there you can allocate packages from your inventory, and complete the sales order process. See more information on creating a sales order in Canix here.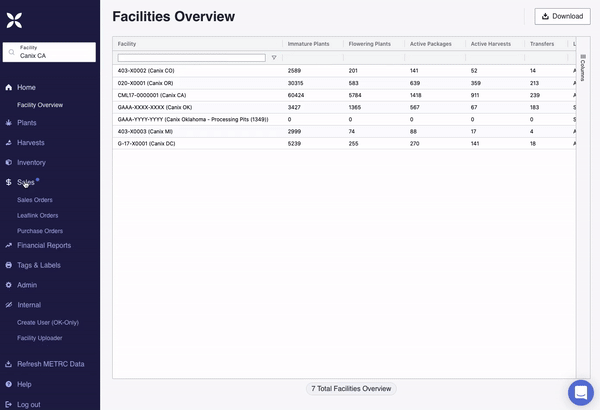 After completing the sales order process, you can return to the LeafLink Orders. There you will find the Canix sales order link has replaced the create button.
*If you are missing LeafLink orders in Canix, please see this article.