Easily print custom labels under the Tags & Labels section on Canix's web application here.
In this article we'll cover:
Setting up your Label Printer
To print from Canix for the first time, you'll need to install the printer software and calibrate your printer for your labels. To set this up, select Set Up Printer in the top right of your screen.

Select "How do I add a printer?" in the pop-up to view the download instructions.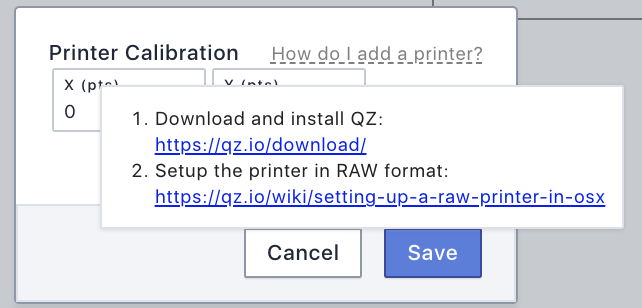 Watch a quick video on how to set up your printer below,
Creating a Label
Once your printer is set up, you should be able to select this from the Printer drop-down in the top right of Canix.

Select which type of label to print: Package, Plant Batch or Plant

If printing more than 1 tag number, enter the number of tags to generate in a sequence in the Next field "# of Labels"

Start typing in the tag field to begin searching for a tag number and select from the results, or copy and paste a tag number into this field.

Note: If printing more than 1 label, the ending tag number will be displayed below the tag field.

Begin selecting auto-generated fields related to the tag type to display the inventory details on the tag preview to the right.

To adjust the auto-generated field sizes, positions or rotation, select the text in the label preview and use the controls above the label (+, -, or rotating icon)

Set the dimensions of the labels you will be printing on inside of the label preview

Select Print in the top right to bring up the printer settings page you are familiar with printing within other programs.
Tip: don't see details for an auto-generated field populate? Check the package or plant tag in the Active Packages report or Plant reporting to verify that information is in Canix.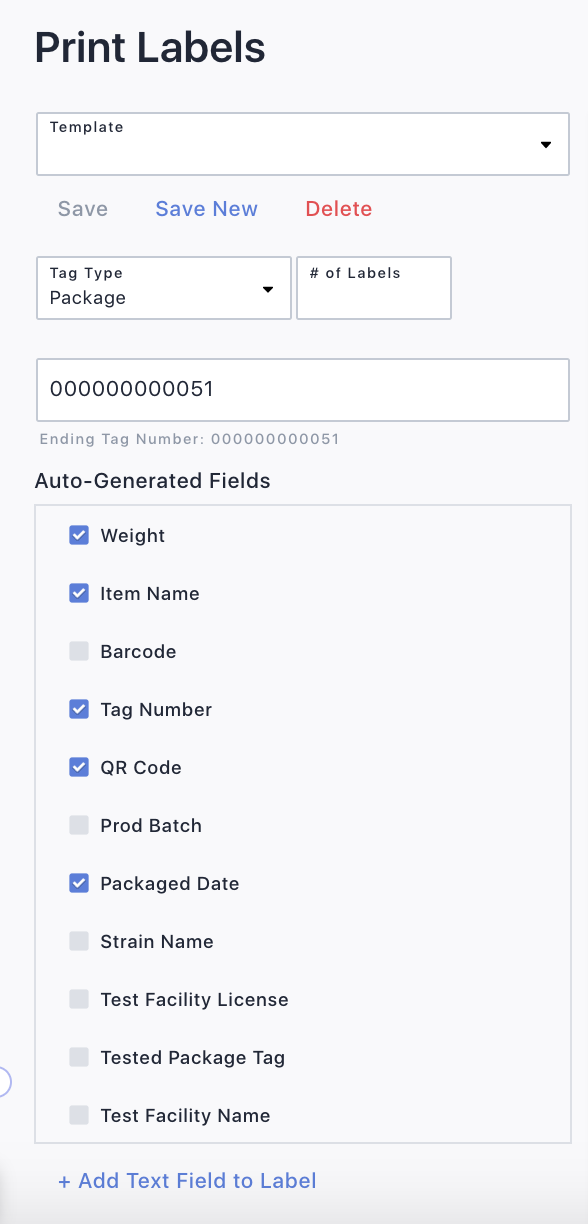 To add custom text fields, like warnings or messages, select +Add Text Field to Label at the bottom of the auto-generated fields list
To add a logo or warning symbol, select the Logo option below the auto-generated fields list and upload the image from your device

Using a Stover Printer to make Custom Labels
When using a Stover Printer to make Customer Labels, be sure to follow these instructions,
Power off the printer

Hold Feed + Pause, and power on the printer while continuing to hold

In 2-3 seconds, you will enter System Mode. Release Feed + Pause

Go down to Emulation (#12), and select Auto

Power cycle the printer
Print to PDF
If your printer is not compatible with ZPL, i.e. Dymo, HP, etc. You can still use our Custom Labels feature by printing to PDF. You can set any printer to read PDF format by following the instructions in your printer manual.
To print Custom Labels as PDF,
Navigate to Tags & Labels > Print Labels > Custom
In the upper right, click Printer setup
The Printer Calibration pop-up will appear, under Print Mode select PDF from the drop-down
Click Save