Generate Purchase Orders in Canix to send and utilize for further action in Sage Intacct.
In this article, we'll cover:
See below for the common flowchart for using Purchase Orders with the Canix/Sage Integration.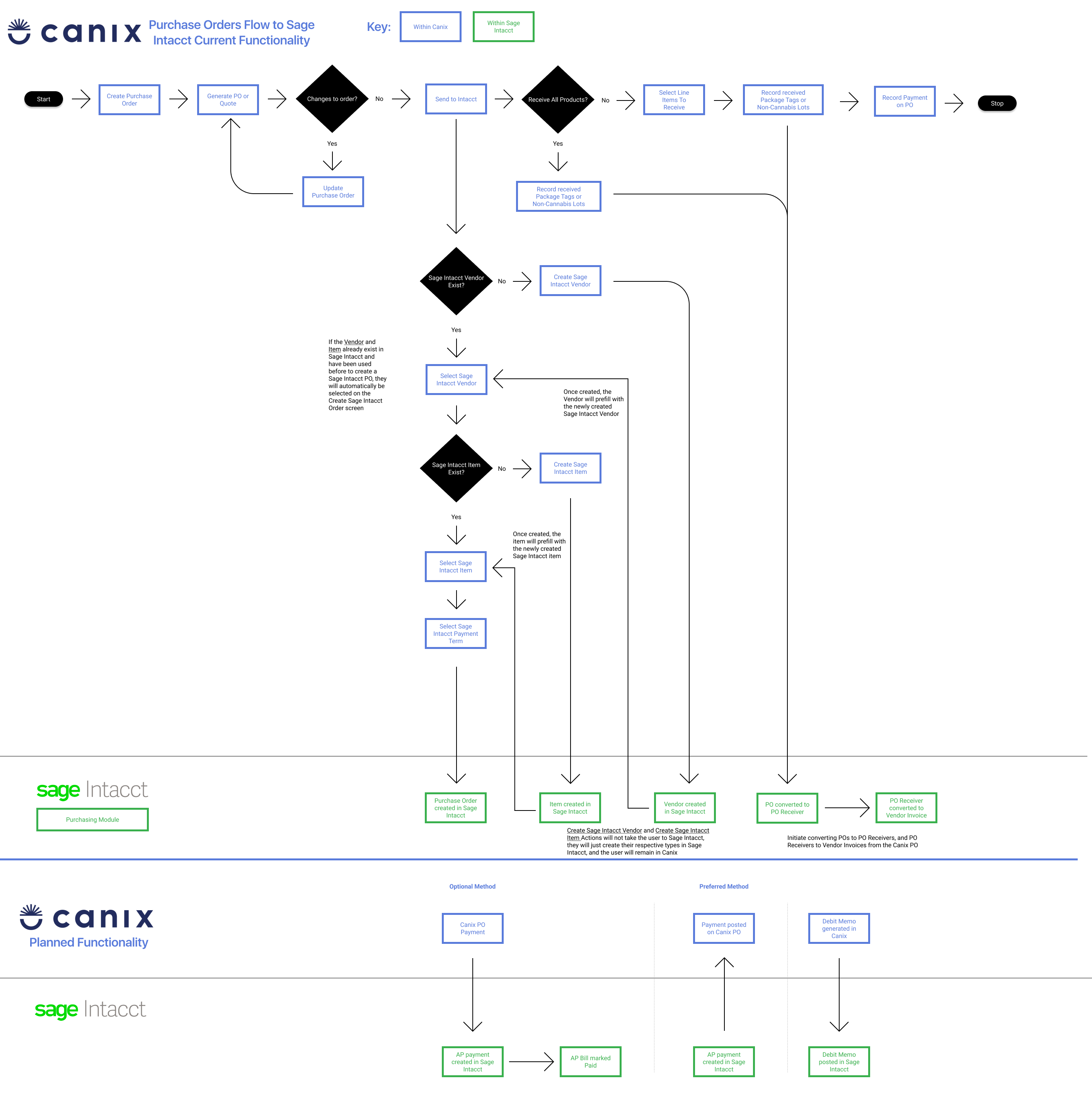 Send Purchase Order to Sage Intacct
Before continuing, ensure your Sage Intacct account is connected by following these steps.
After creating a Canix Purchase Order, navigate to the Finalize Purchase Order section of the Purchase Order and select Purchase Order Actions > Send to Intacct
Now on the Create Sage Intacct Order page, navigate to the Sage Intacct Vendor box in the top left to search and select an existing Sage Intacct Vendor, or create a new Sage Intacct Vendor.

Note: Canix will save the association of the Sage Intacct Vendor to the Canix Vendor after the first association

Assign Sage Intacct Items to each Item on your Purchase Order using the Select Sage Item link below the Canix Item. Search and select existing Sage Intacct Items or create a new Sage Intacct Item.

Note: Select Apply to all same Canix Items to associate the Sage Intacct Item with that Canix Item on all future Purchase Orders sent to Sage

Select the Sage Intacct Payment Term
Once all the fields have been completed, select Send to Sage Intacct in the top right
When the Purchase Order has successfully been sent to Sage Intacct, a success modal will appear with a link to the Purchase Order in Sage Intacct
After the Purchase Order has been sent to Sage, it can be updated by navigating to Purchase Order Actions > Update Intacct Order